Looking to locate or expand your business in Kenosha County? Start here.
Using a combination of state and local resources, KABA helps companies navigate financing options and incentive programs to lay the foundation for success.
Financing
KABA has helped hundreds of companies to relocate or expand in Kenosha County through its extensive portfolio of community revolving loan funds which total more than $30 million.  These funds are used to provide low-cost financing options to growing companies that are either expanding an existing business or establishing a new facility.
KABA financing is available for:
Acquisition of land and/or buildings
Leasehold Improvements
Equipment
Working capital
If you are interested in obtaining financing from KABA and think your company may be eligible please contact KABA.  Interested companies may also fill out and send in a loan application available below.
KABA Finance Application
Note: Please contact KABA for assistance to determine if your financing project fits within our revolving loan fund guidelines and, if it does, what information must be submitted along with your application.
Success Story:
Bradshaw Medical
The company
Bradshaw Medical is a manufacturer of hand-held surgical instruments and devices for the spinal and orthopedic markets.  When founded by Guy Bradshaw in 2006, the company rented a 2,500-square-foot facility and had just a handful of employees.
The project
KABA's most recent project with Bradshaw Medical was a loan of $850,000 that help to fund the purchase of $1,750,000 in CNC equipment.
KABA has been instrumental in Bradshaw Medical's continued growth, lending them more than $2.4 million since the company's inception, including funds to help them build a new building in the Business Park of Kenosha.
The outcome
Bradshaw Medical has expanded from a small rented space in the beginning to a 30,000-square-foot headquarters and advanced manufacturing/research facility. They have grown from just three employees to more than 160 and continue to bring new products to market, currently holding more than 30 patents.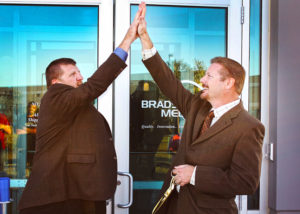 "KABA is to be commended for their unwavering support. Their participation in our new facility demonstrates their continued commitment in Kenosha to ensure growing companies such as ours have the necessary funding readily available to them to help them succeed."
– Guy Bradshaw, CEO, Bradshaw Medical, Inc.
Incentives
There are a number of state and local programs to support investment within Kenosha County.  Both the State of Wisconsin and Kenosha County want companies to locate, expand and thrive here – and these programs are designed to help make that happen.
State Incentives
The State of Wisconsin – through the Wisconsin Economic Development Corporation (WEDC) – offers loans, loan guarantees and tax credits to encourage business growth and job creation.
Companies can virtually eliminate the tax on income from manufacturing activity in the state with the Manufacturing and Agriculture Credit. When fully phased in, the effective corporate tax rate for manufacturing and agricultural activities will be just 0.4 percent.
For businesses planning to move to and hire workers in Wisconsin, the WEDC offers Business Development Tax Credits based on the creation or retention of full-time jobs, depending upon the wage range and number of jobs to be created.
The WEDC also offers Training Grants to businesses that want to upgrade or improve the job-related skills of their full-time employees.
More information
Kenosha County High Impact Fund
The Kenosha County High Impact Fund incentivizes major economic development projects – developments which create at least 50 new high-paying jobs and/or involve a capital investment of at least $3 million.  To date, KABA has issued $$3,075,000 in high impact financing since the fund's inception in 2013.
Since its inception, the High Impact Fund has contributed to the creation of almost 1,475 new jobs and $168 million in new private investment.
Success Story:
Colbert Packaging
The company
Colbert Packaging Corporation is a manufacturer of folding cartons, rigid setup boxes and paperboard specialty products.  It was founded in 1959 when the late Charles Colbert purchased the property and assets of Kroeck Paper Box, which was founded in Chicago in 1892.
The project
In October 2016, Colbert Packaging announced plans to relocate its flexographic packaging operations and related warehousing services from northern Illinois to a new 173,000-square-foot building on 16 acres in the Business Park of Kenosha.
The Wisconsin Economic Development Corporation (WEDC) authorized the company to receive up to $850,000 in state tax credits over their first three years in business in Kenosha County. The actual amount of tax credits received will be contingent upon the number of jobs created and the amount of capital investment the company makes during that time. Kenosha County provided $250,000 from its High Impact Fund.
The outcome
Colbert's investment is expected to bring 100 jobs to  Kenosha County.  An economic modeling study estimates the project could indirectly generate 67 additional jobs in the region. Those 175 new jobs are expected to generate up to $1.5 million in state income tax revenue over a five-year period.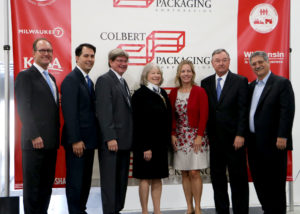 "Wisconsin is known for its printing and paper-making industries, as well as the technical expertise of those who work in these fields, which makes the state an ideal location for Colbert."
– Jim Hamilton, President, Colbert Packaging