Companies Temporarily Hiring
If you or your employees are currently out of work due to the closures in place following Governor Evers 'Safer at Home' proclamation due to the public health emergency surrounding the COVID-19 pandemic, the following companies are currently hiring in Kenosha County.
If your company is temporarily in need of additional employees, please contact Brooke Infusino at binfusino@kaba.org.
For more information, please see KABA's COVID-19 Resource Center for Kenosha Area Employers.
UPCOMING EVENT: Virtual Job Fair  |  April 15-29, 2020 | Presented by Wisconn Valley Media Group  |  Learn more
For additional information about employers looking for immediate hires, as well as temporary roles, visit Southeastern Wisconsin Works.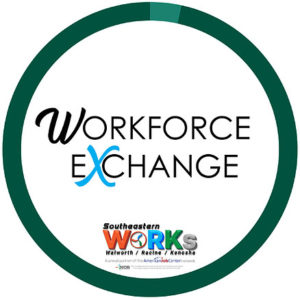 Don't lose your labor force during the COVID-19 shutdown. If you are concerned about temp laying off your workers, consider Workforce Exchange. It lets you "lease" your employees to a company that has an emergency NEED for workers now. 
Learn more
Amazon
Amazon's Kenosha fulfillment and sortation centers are currently hiring to address the dramatic increase in demand. Apply at amazon.com/kenoshajobs.
Dohney's Pool Supplies
Doheny's is immediately hiring seasonal full- and part-time call center representatives as well as full-time seasonal warehouse associates for their Pleasant Prairie location. To apply, visit https://www.indeed.com/q-Doheny-jobs.html.
Frontida Assisted Living
Immediately Hiring for Temporary/Part-Time Team Members
Frontida Assisted Living is dedicated to serve our residents with the best care possible. During this time of national emergency we understand that some industries have been directly impacted. We have temporary positions available and in order to expedite the process you will be provided with accommodated training so you can get up to speed quickly.
We are looking for people that have a servant's heart and want to use their talents and strengths to help others.
Job duties may include:
Activities with residents
Serving meals
Cleaning the home
If applicable, activities of daily living for residents – showering, toileting, etc.
As our team members work together to get through this time our temporary/part-time team members will need to work flexible schedules and jump in where needed to help care for our residents.  If this is something you are interested in, we want to hear from you.
Contact Crystal Miller at crystal@frontidacare.com for more information.
LMI Packaging
We understand many workers in the Southeastern, Wisconsin area have been affected by COVID-19. If you are without work or have reduced hours, please apply at LMI Packaging today using this this link: https://lmipackagingsolutionsinc.easyapply.co/
We are looking to add more employees to our production floor for die cut, printing, ink technician, and shift supervisor roles.
LMI Packaging is a safe, happy, and thriving manufacturing plant that is ensuring the safety and health of our employees as we navigate through these tough times.
Questions? Email Becky Renz at brenz@lmipackaging.com.
Meijer
Meijer is seeking partnerships with employers with food distribution expertise who would benefit from a customized labor share program during the COVID-19 pandemic. If you represent an organization with experience in food distribution, please contact Brooke Infusino at binfusino@kaba.org for more details on working directly with Meijer.
Meijer is also hiring additional seasonal team members in their stores and distribution centers to meet the demands of business and support the local community. Cashier, stocking and other distribution positions are available for those 18 years and older for 2nd and 3rd shifts.
Click here for more information or visit jobs.meijer.com and search for the Kenosha or Pleasant Prairie locations to apply.
Vonco Products
Vonco Products is a custom packaging manufacturer located in Salem Lakes.  They are currently hiring for Converting Operators as well as other positions.
Title: Converting Operator I
Basic Purpose and Function: This is an entry level position reporting to the Shift Lead, and Supervisor. Requiring adequate performance running shape machines making simple seal products, cut out products or unprinted products.
Job Responsibilities
Entry level Assembly/Packing
Running shape machines making simple seal products, cut out products or unprinted products
Follow all safety rules and procedures to ensure a safe work environment
Correctly fill out daily paperwork which includes basic math, and an accurate count of products produced
Produce minimal scrap
Make machine adjustments as needed
Ensure product meets or exceeds specification on the template
Maintain a clean workstation
Actively participate in 5S and Stop Audit programs
Food Safety Compliance
Qualifications
Attention to detail
Basic math skills
Be able to read, write, and communicate in English
Mechanically inclined
Physical Requirements
Stand/Sit up to 8 hours a day
Able to work 8 – 12 hours a day
Repetitive reaching and grasping up to 90% of the day with both hands
Must be able to lift to 35 lbs.
Please visit the Vonco careers page for more information.